PUBLIC FINANCE FOR DEVELOPMENT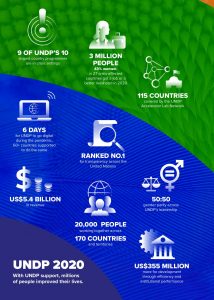 UNDP's Illustrated Annual Report for 2020
UNDP's Illustrated Annual Report for 2020 is now available online to review and download in English.
The results, stories, and insights that you will read inside reflect on the year of development's biggest challenge. Just to illustrate, you will learn about: 
➡️ UNDP's response to the COVID-19 pandemic and the way of managing it,
➡️ increase in government financing,
➡️ private-sector engagement, and much more.