PUBLIC FINANCE FOR DEVELOPMENT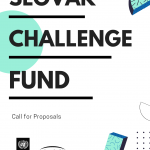 Call for Proposals within the Slovak Challenge Fund is OPEN!
The purpose of the Slovak Challenge Fund is to identify promising innovations that leverage Slovak know-how and generate greater efficiency of the UNDP programmes in North Macedonia and the Republic of Moldova. 
Online workshops for applicants (Slovak private sector entities) will be held on June 9 (in Slovak) and June 16 (in English).